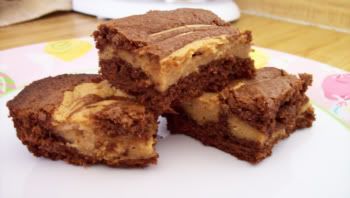 Ingredients:
Peanut Butter Filling:
6 ounces cream cheese, softened
½ cup peanut butter
¼ cup sugar
1 egg
2 Tbsp. milk

Brownie:
1 cup butter, melted
2¼ cups sugar, divided
2 tsp. vanilla extract
4 eggs
3/4 cup cocoa
1¼ cups all-purpose flour
½ tsp. baking powder
¼ tsp. salt

Directions:
For peanut butter filling: Beat cream cheese, peanut butter, sugar, egg, and milk until smooth. Set aside.

Preheat oven to 350F. Grease an 13x9-inch pan.

Stir together flour, baking powder, and salt; set aside.

Beat butter, sugar, and vanilla until creamy. Add eggs, one at a time, beating well after each addition. Add cocoa; beat until well blended. Add dry ingredients, beating until well mixed.

Remove 1 cup batter; set aside. Pour remaining batter into prepared pan. Spread Peanut Butter Filling over surface. Drop reserved chocolate batter by teaspoons over filling. Using a knife, gently swirl through top layers for marbled effect.

Bake at 350F for 35 to 40 minutes, or until a toothpick inserted in center comes out almost clean. Cool completely in pan on wire rack. Cut into bars. About 36 brownies.



In my quest last... whatever day it was that I made the blondies, I came across this recipe, but didn't have any cream cheese. This is what I first thought of for Myriam's Browniebabe of the Month contest. I didn't think it'd happen, so I just entered the blondies. But, yay, there was time enough, so after I post this, I'll be sending another email to Myriam. :)

These came out surprisingly well. My previous marbling experiences usually wound up... over-marbled, so I'm quite pleased with these. The peanut butter taste isn't too overwhelming, and it's a good balance between peanut butter and chocolate. I asked Dave if he wanted to bring some into work tomorrow, and his words were, "These aren't going to work. They're staying here!" Which made me happy, of course. I'll sneak some to my guinea pigs at work, though.